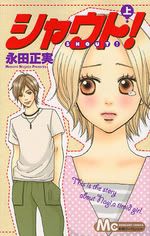 Synopsis :
From Osuwari Team:
Beginning of college; checking out the school clubs... Nagi likes the drama club because it has a cool-looking guy whom Nagi thinks is kind. But once she joins the club he makes the club members do embarrassing things in public--and makes Nagi cry. His name is Rin, known as "Sad Yama." He won't let Nagi quit the club--and he won't let go of her either!
*Includes a side story called
Danchi Rangers
in volume 2.
From Intercross:
The weak-willed college freshman Okouchi Nagi and the super sadist Sadayama Rin... Watch as these two enjoy their fun and interesting college life in the drama club!
Artist :
NAGATA Masami
Associated Names:
シャウト!
吶喊SHOUT!
Danchi Rangers
Genre :
Shoujo / Comedy / Romance
Status :
2 Volumes (Complete)
Year :
2008
Raws :
Volumes 01 - 02
Mirror Volume 01 / Volume 02